Overview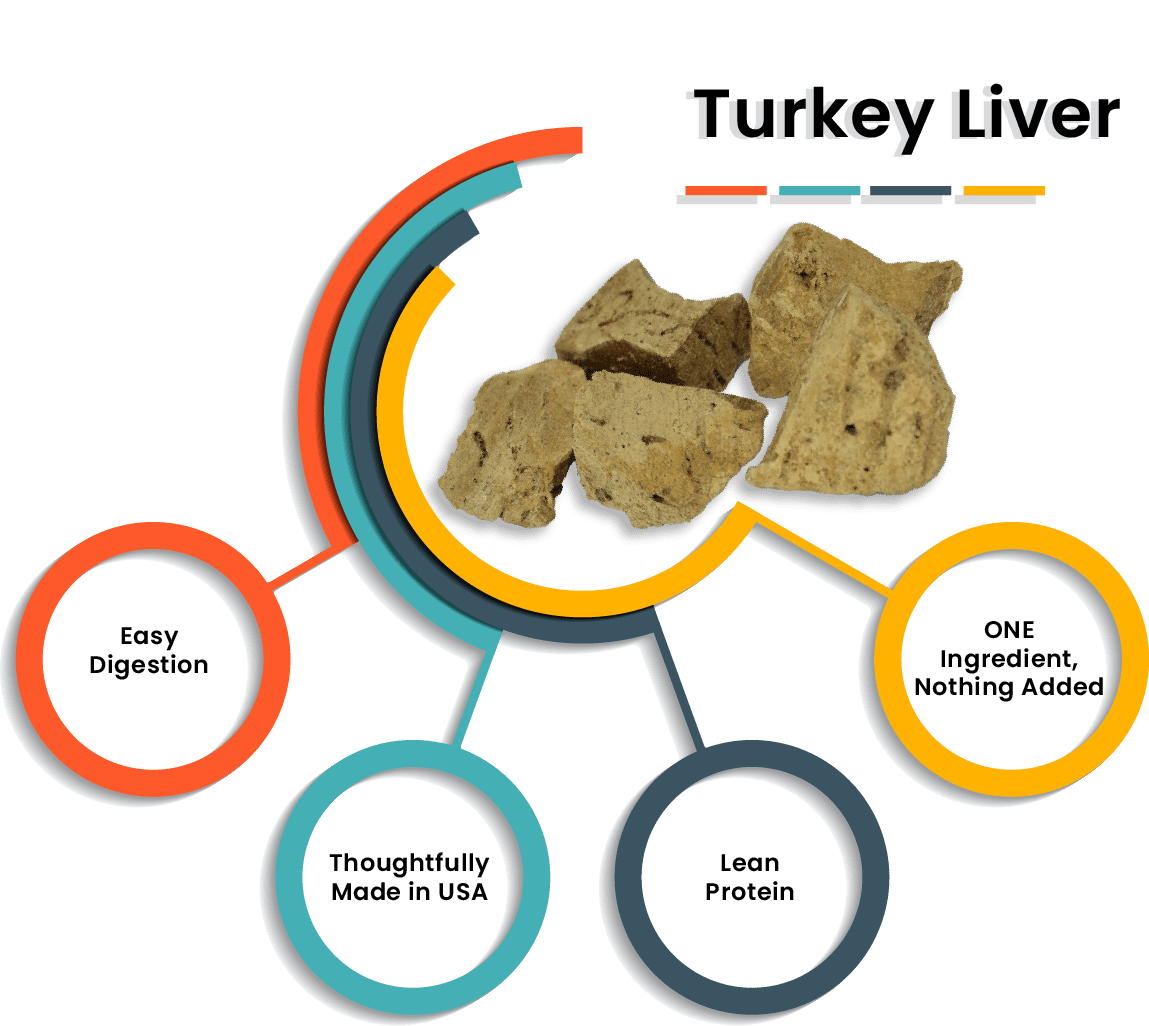 Stewart Pro-Treat Turkey Liver Dog Treats
Made in The USA Using All-Natural Ingredients
Our Turkey Liver Freeze Dried Dog Treats are made with 100% pure turkey liver. We use authentic ingredients, thoughtfully sourced and carefully processed under our own roof in the USA. Because we're pet parents, too, our goal is to keep your pets nourished and happy every day with treats and food that are amazingly delicious.
Promotes healthy digestion.
Single ingredient recipe: Just 100% pure turkey liver.
Turkey liver is a nutrient-rich organ meat that dog's love.
Support pet health and energy as turkey liver is rich in protein, fat and vitamin A, plus a good source of copper, iron, niacin, phosphorus and zinc.
Rich in vitamins and minerals, turkey liver treats are a lean source of protein.
All-natural dog treats with nothing added.
Made in the USA from thoughtfully sourced, human-grade ingredients.
USDA-certified ingredients gently processed in the heart of the Midwest.
Grain free, gluten free, soy free, with no preservatives, no artificial colors, no additives.
Freeze dried dog treats lock in freshness dogs love.
Nutrient-rich turkey liver treats for dogs are high in protein and ideal for picky eaters.
Preferred by professional trainers as the best treats for training.
Based on our 45 years of crafting liver treats for dogs.
Healthy dog treat is a good choice for food sensitivities, dogs with allergies or those on a limited-ingredient diet.
Perfect for all sized dogs.
Fresh and convenient in sturdy resealable tubs or pouches.
Supports a healthy digestive system with no genetically modified ingredients.
Naturally vitamin rich, high protein and locally sourced.
Feeding Guidelines
May be fed three times daily.
Daily feeding based on dog's weight:
| By Weight | 10 – 30 lb | 30 – 60 lb | Over 60 lb |
| --- | --- | --- | --- |
| Number of Treats | 1 – 2 | 2 – 4 | 4 – 6 |
Serving Instructions
Convenient diced reward size pieces are intended for intermittent or supplemental feedings.
Have a bowl of fresh water available to your dog at all times.
Available Varieties & Sizes
Our all natural, freeze dried turkey treats are available in the following sizes:
Tub: 1.5 oz., 3 oz., 11.5 oz.
Resealable Pouch: 3 oz.
---
Our single ingredient, freeze dried Pro-Treats are available in seven other irresistible varieties.
Click on each one to learn more.
Beef Liver | 100% Pure Beef Liver
Tub: 2 oz., 4 oz., 14 oz., 12 oz., 17.5 oz., 21 oz.
Resealable Pouch: 2 oz., 4 oz., 12 oz.
Cheese | 100% Low Fat Cheddar Cheese
Tub: 4.2 oz., 20 oz.
Resealable Pouch: 4 oz.
Chicken Breast | 100% Pure Chicken Breast
Tub: 1.5 oz., 3 oz., 11.5 oz.
Resealable Pouch: 3 oz., 11.5 oz.
Chicken Liver | 100% Pure Chicken Liver
Tub: 1.5 oz., 3 oz., 11.5 oz.
Resealable Pouch: 3 oz., 11.5 oz.
Duck Liver | 100% Pure Duck Liver
Lamb Liver | 100% Pure Lamb Liver
Tub: 3 oz.
Resealable Pouch: 3 oz.
Wild Salmon | 100% Pure Wild Salmon
Tub: 2.75 oz., 9 oz.
Resealable Pouch: 2 oz.